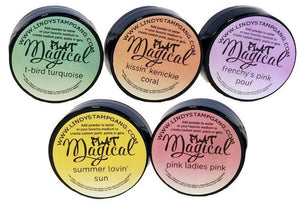 Beauty School Dropout Flat Magical Set
Add sparkle and pizzaz to your projects with this Beauty School Dropout Flat Magical Pigment Powder Set. Designed for use on everything from paper to wood, the dye-based powders are non-toxic and acid-free. Sprinkle them directly onto a porous surface and spray it with water for a vibrant stain, or mix them into different mediums to create potent pastes. Flat Magicals contain powdered dye and a fixative, but no shimmer.
0.25oz jar

Non-toxic, acid-free powdered dyes

Made in the USA
The Beauty School Drop Out Flat Magical Set includes:
Frenchy's Pink Pouf-

a beautiful pinkish purple, (almost orchid color)

T-bird Turquoise-

a soft greenish turquoise.

Summer Lovin' Sun-

a beautiful rich sunny yellow

Pink Ladies Pink-

is the perfect true pink color.

Kissin' Kenickie's Coral-

a beautiful rich coral color.
---
We Also Recommend